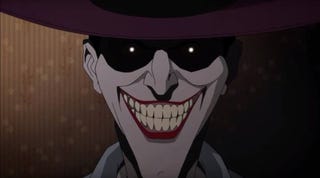 Here is a review I didn't really want to write, but felt compelled to. I read the commotion over it over the weekend, and let's just say curiosity killed this cat (or duck, to keep up my shtick.) I saw the animated version of The Killing Joke on Monday at my local cinemaplex.
Why See It?
I wanted to see Kevin Conroy and Mark Hamill's performances, first and foremost. Also, I wanted to see if the changes (the intro and the 'batsex' scene) were as bad as they were hyped to be. Oh Boy. This is already on top of the original controversy over the story.
My Feelings on the Original Comic
I do like the comic, despite all its many faults (it's treatment of Barbara Gordon, for starters) I still like it. Consider it one of my faults. (Mine is not in California, unlike Lex Luthor.) It's a great character study of the Joker and his bizarrely magnetic relationship with Batman. In doing so, it became a catalyst for many stories for years, for good and ill.
Hints of it show up in the 1989 Batman movie (Burton even cites the book as triggering his interest in the property) like the origin for the Joker. The themes from it (the 'one bad day' and such) got explored to their fullest (and I'd argue better) in Christopher Nolan's Dark Knight. Because of the mess it caused with Barbara we had John Ostrander and Kim Yale pick up the pieces and turn her into one of my favorite members of the Bat-Family, Oracle, computer wizard extraordinaire.
That said, it gave Barbara Gordon the shaft. It happened because DC didn't really care for her at the time and didn't know what to do with her. Moore proposed the story to then Editor Len Wein, who infamously gave his word of approval with the words "Cripple the bitch." I don't know if he was being serious or not, but that just speaks to the mindset of the office back then. I could go into more detail, but I want to move on to the movie itself.
The New (and NOT Improved) Prologue
It was even worse than I expected. It made the original material even harsher with its presence. I didn't know this was even possible. Congratulations writers (who will go unnamed due to my generosity) you managed to make the most uncomfortable Batman story even more so.
First of all, it's nice that it focuses on Batgirl, even being from her perspective. Giving her time to shine should (in theory, at least) make us care more for her when she gets attacked by the Joker in the story proper. Tara Strong's performance is good as usual. That is where my praise will end for this portion.
First complaint is that for some reason Barbara's job at the library comes with a 'gay best friend' stereotype. Not necessarily bad by itself, but it is THAT blatant and annoying. She converses about her 'relationship' (she even says it's like a teacher, calling Bats her 'yoga instructor') to him and he gives forth the stereotypical advice. It's the exact role Patton Oswalt made fun of. This is then complimented by her adventures with Batman, who still treats her like a rookie kid. This will be an important detail. She doesn't act like usual, being a lot more cocky and headstrong. It's like a bad mix of The Batman's version of her and the one from the infamous All Star Batman and Robin, where she is reduced to the level of clingy fangirl. It's really that bad, and is fully apparent in the post-coital phone call that is whiny, possessive, and demeaning all at the same time.
The bad guy of this sequence is a gangster by the name of Paris Franz. Holy bad pun, Batman! He has a stalkerish fixation on Batgirl, even having prostitutes wear a Batgirl mask when servicing him. I am not making any of this up. Batman even tells her not to feed this fixation by pursuing him, and she of course doesn't listen. This results in a moment where she stops him from robbing a bank, and he manages to gas her but she locks herself in the vault before its effect takes hold. This is one of the few moments of ingenuity she has, so savor it.
Afterward, she's seen on a rooftop watching the cops look at the scene, and Batman gives her a cup of coffee. I'm not kidding. It's actually kind of cute. Then the scene that set the Comic-Con panel on fire happens.
Doing the Horizontal Batusi
Hooooo Boy. Batman confronts Batgirl on her recklessness, this escalates to them sparring. She actually manages to get the upper hand, has him on his back to the ground, and… looks lustingly into his eyes, and kisses him. She then proceeds to take her top off, and the camera pans up to a leering Gargoyle, presumably one of the writers of this film enjoying the view.
There are so many things wrong with that last paragraph that it's going to be hard to unpack them, but I'll do my best to try. First off, it feels so wrong. The fact that it was setting them up in the classic mentor-student role, coupled with the surrogate parent feel, makes it feel icky on numerous levels. Couple that with him being her father's best friend, it just compounds the error. Even the audience I was with either laughed at it, or went WTF. It was a mix of giggles and gasps. I am not making that up.
Second, it's repeating a mistake from a previous animated incarnation. Batman Beyond implied that a relationship between the two of them is what damaged his relationship with Dick Grayson, alias Nightwing. The comic based on the cartoon even went further and it was shown that Bruce and her rolling in the hay resulted in a pregnancy (just as she was resuming a relationship with Dick) and it was when Dick found out that everything fell apart. She even suffered a miscarriage to top it all off. Since this sounds like the plot of a bad soap opera, you can see why fans weren't exactly excited about this pairing.
Third, it ends up making the Killing Joke part worse. It makes the 'fridging' even more apparent and fueling some other bad tropes. It takes it from "He went after a member of the Bat-Family and my best friend's kid" to the old tried and true "He went after my lover."
Finally, the way Batgirl acts about it afterward, instead of her feeling like a peer to him, she becomes whiny (with the before mentioned day after phone call). So instead of making her stronger as a character, it weakens her. It was embarrassing to watch, especially when she flipped out at a random bickering couple over this.
The Rest of the Prologue
They take down Paris the crazy stalker, and she quits being Batgirl, the end. Nothing else to really talk about here.
The Killing Joke Proper
I'm not going to describe it in nearly as much detail. I'm not going to analyze or critique it as much as elsewhere, as more talented critics than I have already extensively critiqued the original story, and I've already said my piece on it earlier. What I will do is comment on the adaption of the material and one of the changes that galled me the most.
To start off with, one thing I did like is that it added a scene showing why Batman went to visit the Joker in the first place. It is the one good addition to the adaption.
Overall, the performances are stellar. Kevin Conroy is at the top of his game here, and is readily apparent in the opening interrogation scene. Mark Hamill puts in an equally stellar performance. The dialogue is almost spot on to the graphic novel, and it works for the most part.
"Here's to Crime!"
The scene where Barbara is shot and abused is done in the exact same way as it is in the comic, and it is just as gut wrenching and horrific as it is there. (The prologue almost makes it feel worse.) Batman visits Barbara in the hospital room, and instead of feeling sorry for herself, she tells Batman to find her father. This is one of the things I like from the book, because it shows how selfless she is. Also, I'd like to address the fact that Barbara isn't attacked because of her adventures as Batgirl, but because she was Gordon's daughter. That is both problematic and interesting. The 'normal' side of her life is the one that gets attacked, not the superhero side. This is one of those details that stood out to me last time I read it.
One thing the film fleshes out is Batman's search for Gordon. This is both good and bad. The good: it shows him scouring many leads, including a great bit where he takes confronts a room full of criminals. The bad is going to be the next section entirely.
They Imply Something Alan Moore Said Didn't Happen
Batman in his search questions a group of three prostitutes about the Joker. Their response is along the lines of 'he usually visits one of us girls the instant he gets out of Arkham, but not this time'. This is where I got really mad. This implies that the Joker RAPED Barbara Gordon, as opposed to just abusing her and taking photos to get to Jim Gordon. This goes against both most characterizations (and the ethos) of the Joker and Alan Moore's comments on the matter, saying that that was where he drew the line. The fact that they implied crossing Moore's line disgusts me.
The only work of Batman fiction that I can think of that involves the Joker raping someone is Brian Azzarello's Joker graphic novel. Considering his involvement in this adaption, I'm not sure I can't consider this coincidence. Also, the only time I can think of the Joker consorting with prostitutes is the aforementioned All-Star Batman and Robin, so I wouldn't say it's something most fans would want to be reminded of.
The Joker doesn't care about sexual gratification. He cares about messing with people's heads. That's the point of this story. Why did they have to screw that up?
Now for the Main Attraction at the Bonus Brothers Carnival
Now for the best part of the movie, the Joker's carnival of insanity. It is well animated, with the Joker's freaks looking just as disturbing as Bolland's linework, and it comes with a surprise. They turned the Joker's speech about reality and insanity into a Busby Berkley-style musical number, and it is glorious. If you liked the musical number in Arkham Knight, you'll love this. Mark Hamill gives his all, and it makes you both horrified and laugh at the same time. It's done by the same guy who did the "Mayhem of the Music Meister" episode of Batman Brave and the Bold, and it shows. Here's "Can't Stop Laughing" from the game:

If you liked that, you'll like this scene.

I feel I should mention the origin flashbacks. The pre-Joker is perfectly acted by Hamill. The only thing that brings the flashbacks down are the muted coloring, but I'll get into that later.
The confrontation with Batman is fantastic, and the final moments are ripped straight from the book. Some people in the audience even laughed at the Joker's joke.
They even added a nice mid-credits scene showing Barbara becoming Oracle. Another welcome addition. Makes me want a Birds of Prey animated movie next.
Final Comments
It's a pity the amazing performances are dragged down by a terrible prologue and a few minor alterations. That said, I'm glad I watched it at least the once, out of respect at least to Mark Hamill, since this was his dream project.
I would have fixed the intro by rewriting it to have been Nightwing and Batgirl's last romp. This would have made it more heartbreaking to see her with someone she got along with, rather than fought. You could explain his absence by having him get hurt or something.

Also, I'd like to add that I dislike that they went for coloring like the muted Bolland recolors. I always preferred the originals due to their fever dream feel. This is especially notable in the way too muted flashback scenes. And of course the animation isn't nearly as detailed as Bolland's linework, but it couldn't be and I'm fine with that. Here's a fan mockup of the original colors:

Any questions, comments, concerns, I'll be happy to discuss them below. Just don't call me a pussy. (That one's for you, Azzarello.)
Update: Here's the song: